Our Clubcat HP series 10W RGB laser system is a fantastic balance between power and portability. Our 10W laser system is lightweight and very easy to
handle for one person, but packs a huge punch. With the same form factor and sturdy build quality as the 5W, this system is ready to stand up to the harsh
show environments without skipping a beat.
Included: Clubcat HP 3W laser projector, Power cable, Remote interlock stop, Product Manual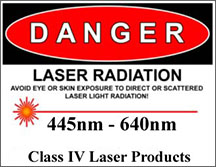 Specifications
Laser class: 4
Scanners: 40kpps at 8 degrees
Operation modes: ILDA in/out, optional FB4 upgrade
Red:500mw 638nm <1.2mrad 3*2mm
Green:800mw 520nm <1.2mrad 4*2mm
Blue:1800mw 445nm <1.2mrad 4*4mm
Laser safety features: Key switch, Interlock interface, overload protection on X and Y Galvos for best safeguarding against failure, and mechanical shutter
Power Input: 100v-240v AC 50/60Hz
Modulation: Analog
Power consumption: 100W
Weight: 15 lbs
Laser Dimensions: 11″ x 8″ x 7″