Basics of Laser Safety
Note: Laser lighting systems operate differently from just about any other lighting effect, and because of that, laser users must take care to protect themselves and their audiences. Technological Artisian laser projectors are only to be used for indoor applications, never project laser beams into the sky and to keep laser beams 10 ft. (3m) above where the audience can stand and a 2.5m horizontal clearance from any location in the venue where members of the public may gain access during the display. Eye safety is key, and one should never shine laser beams into an audience.
As a laser operator and/or producer of laser light shows and displays, I understand and acknowledge the following:
Above any other considerations, a laser show must be safe for all persons at the show. This means:

The laser light must not cause injury (harmful changes) to eyes or skin.
The laser light must not create a potentially injurious condition, such as causing curtains or other materials to ignite.
Non-laser safety must also be maintained, in areas such as mechanical mounting (no hazards from falling equipment) and electrical safety

I understand that I am ultimately responsible for the laser show's safety and will ensure to follow regulations requiring a minimum separation of 3 meters (9.8 feet) vertically, and 2.5 meters horizontally (about 8 feet), between high powered laser effects and any area where the audience is permitted.
PROPER INSTALLATION
SAFETY IS ALWAYS THE FIRST CONCERN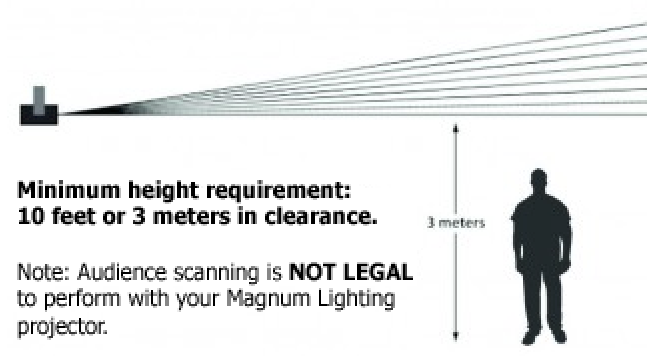 Laser safety regulations require that the laser display products operated in public must be setup with a minimum of 3 meters (9.8 ft) if vertical separation between the floor and the lowest laser light emission. Laterally, a 2.5 meter (8 ft) clearance is observed.
All public shows produced with Class 3B or Class 4 laser projectors (powered with 5mW or more) are subject to on-site inspection by FDA, CDRH agents and any infractions due to non-compliance with any Laser Variance requirements can result in fines up to $300,000. Get your Show Variance today!
3. I will not present a show which is hazardous (potentially unsafe), or change or modify a safe show so that it becomes hazardous.
4. I will not allow others to override safety considerations, such as show producers or clients.
5. My shows will be continuously monitored so that hazardous conditions can be detected if they occur. In such a case, the condition will be corrected or the laser emission will be immediately terminated (within a few seconds).
This is to be performed by using a trained operator who knows what hazardous conditions to monitor, and who knows how to immediately terminate the laser emission.
6. Laser safety standards and guidelines shall be followed at all times, including during setup/installation, and for all persons in the area, whether general audiences, performers, production staff, etc.
7. I will use backup methods to ensure that if beams do not hit a target, they will not pose a hazard. This can include physical barriers such as beam stops or having the beam terminate on a screen.
8. I understand that Technological Artisian projectors shall not be used for any kind of audience scanning. Audience scanning is NOT LEGAL to perform with your Technological Artisian projector because it requires a different variance and type of projector along with significant laser safety training on audience scanning.
9. I understand that Technological Artisians' fixtures are ONLY for indoor use and will never project laser beams into the sky.